The CCCA Admin Centre is Closed Following the Stay-At-Home Order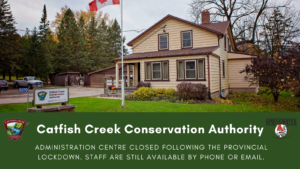 The Province of Ontario has declared a third provincial emergency to address Covid-19. Effective Thursday, April 8th, 2021 at 12:01 a.m., the government issued a stay-at-home order requiring everyone to remain at home with exceptions for permitted purposes or activities.
The CCCA Admin Centre is closed to the public. Staff are still reachable by email and/or phone (519-773-9037), for all inquiries. Please visit our directory for staff emails. We ask Seasonal Campers to call in their payments and other inquiries. We will be selling maple syrup products on a curbside pick-up system and on designated days, please call our office or email Kelsey, [email protected], for more information.
Our properties remain open to the public for trail access ONLY (no facilities, playgrounds, or pond activities available). Please do not come to our properties to congregate and mingle with those outside of your household.
Find more resources from the Ontario Government and the Southwest Public Health Unit at the following links:
TRAIL ETIQUETTE:
-If possible, stay at home (especially if you are from another health unit region)!
-Schedule your trail use to avoid times of high use
-Maintain your physical distance of a minimum of 2 metres
-No group interaction
-Maximum outdoor social gatherings 5 people
-Single file activity only
-Wear a mask outdoors if you cannot social distance 2 metres
-When passing people, step as far to the side as possible and pass on the left
-Respect other users
-Keep all pets ON A LEASH and pick-up after your pet (take all waste WITH YOU)
-Remove all your litter and pet litter from the conservation area – there are no garbage cans on site
-Abide by all Conservation Area Regulations
-ALL PUBLIC WASHROOMS IN CONSERVATION AREAS ARE CLOSED