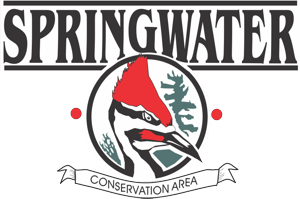 Open from Mother's Day Weekend to Thanksgiving Day.
15 and 30 amp sites.
On-site winter storage.
Sewage pumping service available (for an additional cost).
How do I become a seasonal camper at Springwater C.A.?
The CCCA has transitioned away from a waiting list for Seasonal camping. Sites for the 2022 season will be first come first serve. We will post available sites to the list below. It may not always be possible to update the list daily during the busy season, so recommend that people also phone Springwater periodically to check.
There are currently no seasonal sites available.
Available 15 amp sites:  0
Available 30 amp sites: 0
Friends of Springwater
The Friends of Springwater is a volunteer organization made up of Seasonal Campers that organize events and activities for campers.  Their mandate is to provide, maintain, and magnify the recreational opportunity for the Springwater Conservation Area. Volunteers are needed to run events. To sign up as a volunteer, please contact the President of the Friends of Springwater.
The Friends of Springwater Executive is NOT responsible for: Seasonal Camper complaints, concerns, or questions, nor enforcement of Springwater C.A. Rules and Regulations
For the enjoyment of all, including those individuals on the Executive of the Friends of Springwater, all individuals are to bring any questions or concerns directly to the Staff of the Catfish Creek Conservation Authority, not to the Friends of Springwater.
Visit their website for more information: http://springwaterconservationfriends.wordpress.com/