Welcome WILD Rangers!

There is always fun and a chance to learn in the great outdoors because after all, it's in our nature.
Join the team of staff and volunteers at the Catfish Creek Conservation Authority in learning about all things nature and conservation in the Catfish Creek Watershed!
Keep reading to find a wide range of activities you can take part in with your friends, family or even on your own!
Activity One: Nature Bingo!!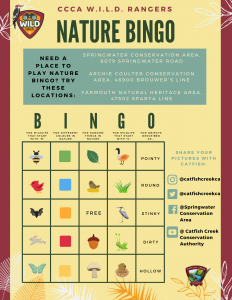 Are you looking for an activity for the family? Let's play nature bingo!
This fun play on bingo gets you outside and exploring a natural place more than you normally would. Squat down low, look in dark places, peer through the grass to try and fill a line and be the first one to yell BINGO! Challenge yourself by trying to fill the entire sheet! Come back later for a winter version.
If you need a place to go to play, try Springwater Forest and Archie Coulter Conservation Area that are near Aylmer, or Yarmouth Natural Heritage Area just outside of Sparta.
And remember to tag us in your photos so we can see all the fun things you find while playing nature bingo!!
Activity Two: Mini Watersheds!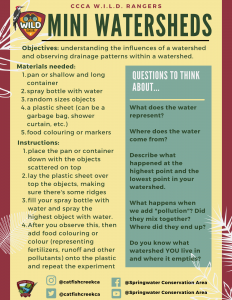 Did you know Conservation Authority boundaries are based on watersheds? A watershed is an area of land where all of the water on land and underneath the ground collects into the same place. In our case here at Catfish Creek Conservation Authority, it is, yes you guessed it, Catfish Creek where the water collects and then empties into Lake Erie. This water includes all the rain, snowmelt and runoff that will either drain into the Creek or seep into the ground. 
This activity is a great way to see how watersheds do not follow our human-made boundaries or infrastructure, it follows the topography and the other landscape features. If a form of water was to enter our mini watershed, let's say through rain, what happens? We will see water flowing down our hills and valleys, creating streams and then rivers, then going into this big open space that is Lake Erie. Try adding food colouring or cocoa powder (a great representation of cow manure) to see how pollution can travel through our watershed and affect our water quality and therefore, our drinking water! 
Activity Three: Marsh Explorers
Firstly, check out this video where the CCCA and staff were featured showing our "Explore the Aquatic World" education program: Learn with Ranger Em | Exploring the Aquatic World!
Have you ever wondered how scientists and field technicians test water quality? Or how we make sure our water is safe to drink? Well, Conservation Authorities and other environmental organizations study benthic macroinvertebrates to tell us how the water is doing!
For this activity, you will need rubber boots and clothes you won't mind getting a little dirty! Grab a net and a bucket and let's explore a local marsh, swamp or pond! Always make sure you have permission to participate in this activity if you're going to someone else's property. You want to make sure you scoop down deep into the mud or stir up the bottom of the pond as that is the "benthic" layer and therefore, where our macroinvertebrates will be. Once you bring a scoop out of the water, you want to search through it carefully, making sure you're watching for anything moving.
Try and find all the benthic macroinvertebrates on this chart, you can even turn it into a little game of bingo!
Activity FOUR: Nature Journaling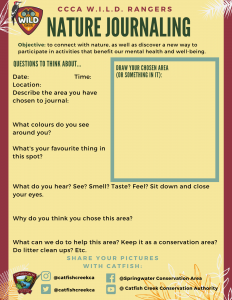 Have you ever wanted to connect with nature and the great outdoors more?
Give nature journaling a try and you won't be disappointed! It not only allows you to connect with nature but is an amazing way of practicing good mental health and well-being techniques like deep breathing and meditation.  Nature journaling can really be about anything you want, but here is a list of a couple of journal prompts.
Remember to be detailed in every way possible; notice the different colours, noises, smells, or anything you may be feeling physically, mentally and emotionally. This is a great way to calm yourself, meditate, and even find things to be grateful for that we may not have noticed before.
Activity FIVE: Build your own COMPOSTER!

Firstly, check out this video where the CCCA and staff were featured showing our "The Earth Beneath My Feet" education program: Learn with Ranger Em | The Dirt on Soil
A simple way to assist with waste reduction, soil health and even to benefit your own garden is to compost! Composting your food scraps (also known as organics) creates an environment designated for food waste to break down safely and properly compared to our landfills.
Follow along with the instructions below and you got yourself a composter! Even if you live in an apartment, you can have an apartment-sized composter on your balcony or speak to your landlord about implementing one for the building! You'll want to remember to mix your composter at least once a month. There's no harm in doing it often though. Make sure your composter gets some sun and is not in a space that it will get drenched by rain. The more water that's in it the more it will smell. Also, an important note, do not put oils or meat in your composter, this will attract wildlife.
Activity SIX: FARMTARIO!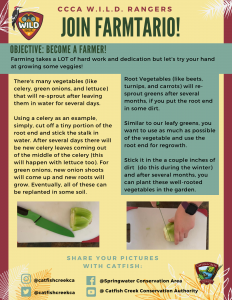 Are you ready to farm?! Now farming does take a lot of patience, hard work and dedication, after all, farmers feed cities! But that doesn't mean we can't try our hand at farming.
Low on space? That's okay!! There are a couple of different vegetables we can attempt to regrow in our very own kitchens! Follow along with the instructions below to try and regrow some veggies!
If you want to try something more difficult, attempt to save some fruit seeds and grow some fruit from scratch! 
Activity S
EVEN: Maple Magic
Dive into our programming that was featured on an episode of "Learn with Ranger Em" from Rogers TV here: Learn with Ranger Em | Maple Syrup Festival!
The Catfish Creek Conservation Authority has been running the Springwater Maple Syrup Education Program since the 1970s!!! It has grown over the years to be open to the public on weekends and over the March Break, reaching an average of 3000 people per year.
The staff of the CCCA share about Indigenous methods of collection and preparation, as well as the historic process from early Pioneers and Settlers to Canada. It is so fun to learn about all the different methods of collection and production of the sugar maple's liquid gold…maple syrup!
Activity EIGHT: Neighbourhood Nature Walk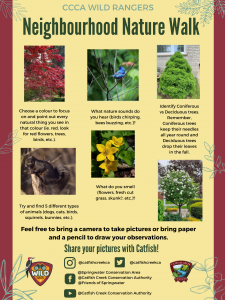 Hey WILD Rangers, sometimes we can't get out to our favourite Conservation Areas and that's okay!
We only need to step into our own backyards or around our neighbourhoods to experience nature and wildlife! Use this handy guide to try and spot as many mammals or even the sounds and smell of nature around us!
Pay close attention to all the signs of life while you are out and about; use all your senses and take your time, some critters may be hiding. 
Activity NINE: Soil in a Jar Experiment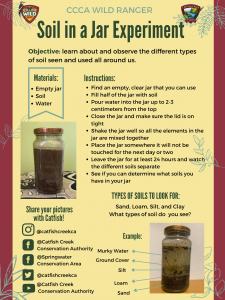 Hey WILD Rangers! Looking to get a little dirty? Let's learn some more about soil!
This is a fun and easy way to learn more about what is exactly held within the soil we can find around us. All you need is some soil, a jar (or another clear container) and water! Mix the water and soil in the jar together and then let everything settle overnight. In the morning check out what we can find in our soils.
We gave you a little example but let us know what you find out…
Thank you to the TD Friends of the Environment Foundation and the Aylmer and Area Community Fund for assisting the CCCA WILD Rangers Education Program by providing funding and assistance.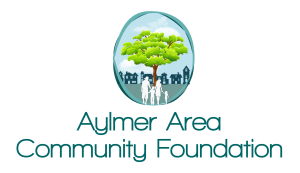 Thank you to Paige Stirling for the design of the CCCA WILD Rangers logo and branding.