Our Program Manager here at Catfish Creek Conservation Authority is collaborating with Administrative Community Leaders from areas 3 and 4 in Southwestern Ontario, to bring 3 days full of recreational programs and outdoor education to help Girls receive qualifications for their badges. This is a free event under the Active Naturally Project offered by Catfish Creek Conservation Authority. It is a one-year Initiative and an amazing opportunity for the Girl Guides.
Crews will be able to choose between Saturday or Sunday:
Fall: October 13th or 14th, 2018

Which will focus on wetlands, forestry and conservation

Crews will: Explore the Aquatic World, enjoy some Seining Fun, learn Orienteering, experience our Forests Through the Trees and will take part in an Adventure Hike!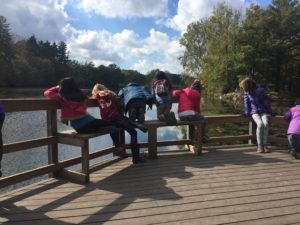 Thank you to all of the groups who came out for the October session – we had an
amazing time explore Springwater CA with you all!
Winter: February 23rd or 24th, 2019

Will focus on winter recreational activity and Maple Syrup

Crews will: See How Sweet it is and Adventure through some Winter Walks

Spring: May 25th or 26th, 2019

Will focus on recreational activity, edible plants found in the wild, wildlife interactions and build a skill

Crews will: discover the Critters of Catfish, indulge in a Forest Feast, come along on the Incredible Journey, and build a skill with Catfish Creek Conservation Authority!
Activities will be the same each day; we're just offering two days to allow more availability for more crews. Also by providing two days, we can bring on more crews. However there will be a maximum amount of people able to part take in Badge Days. Please contact Emily here at CCCA at 519-773-9037, or your Girl Guide ACL for more information.