NEW PAVILION UNVEILED AT THE SPRINGWATER CONSERVATION AREA
Dusty Underhill, Acting General Manager / Secretary-Treasurer, announced on Thursday December 2nd, 2021 that a new pavilion has been completed at the Springwater Conservation Area. The pavilion sits directly across from the Catfish Creek Conservation Authority (CCCA) Administration Centre. Funding for the project was provided by a very generous local resident with a deep appreciation for nature and CCCA in particular. Our new pavilion will provide the opportunity for the public to enjoy nature in an ideal setting.
"The new pavilion will provide additional space for day use events in a beautiful setting" said Kelsey Oatman, Program Support Assistant. "We hope to incorporate the pavilion into our Annual Springwater Maple Syrup Festival as well"
The wheelchair accessible pavilion will be available for rental during the 2022 season for events including weddings, picnics, and family reunions. Reservations for all pavilions and the school house can be made beginning the first Monday in April.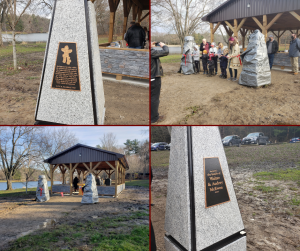 CCCA is a not-for-profit and community-based environmental agency that relies on donations and self-generated revenue to protect and enhance the local environment across its jurisdiction, on behalf of its 5 partner municipalities.
People can learn more or donate to CCCA online at www.catfishcreek.ca/our-supporters/fundraising/
##
MEDIA CONTACTS:
Dusty Underhill
Interim General Manager / Secretary-Treasurer
T: 519-773-9037
E: [email protected]